Spencer Abraham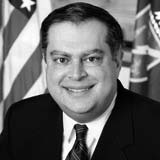 Spencer Abraham
The Honorable Spencer Abraham is Chairman and CEO of The Abraham Group, an international strategic consulting firm based in Washington, DC.
Spencer Abraham (a native of East Lansing, Michigan) was sworn in as the tenth Secretary of Energy in United States on 2001. He began his tenure in the midst of a severe energy crisis that included the California blackouts, declining domestic energy supplies and insufficient international energy trade opportunities. In response, he led efforts to broaden America's international energy partnerships, working with China, Japan, Russia, the E.U., countries in South America and Africa and certain OPEC nations. Domestically, he spearheaded the department's high-tech efforts in the areas of hydrogen fuel cell research and the development and expansion of clean coal technology programs, and provided a strong voice for the reemergence of safe nuclear power. According to the Presidential Management Agenda scorecard, the Department of Energy went from "worst to first" of well-run agencies under Secretary Abraham's leadership.
When he announced his resignation as Secretary of Energy in 2005, The Washington Times sang Abraham's praises, writing that he "inherited a large and unwieldy agency in post-Cold War drift. He bequeaths [his successor] something much better. Mr. Abraham led his agency with distinction and high integrity." Faced almost immediately with the energy and safety issues of the post 9/11 world, Secretary Abraham distinguished himself by revitalizing and refocusing the Department of Energy on the new homeland security challenges our country faced. Abraham saw to the safety of America's nuclear stockpiles while he played a key international role by dramatically expanding the Department's focus on nuclear nonproliferation programs, negotiating with Russia and other former Soviet states. He created new safeguarding plans that the Washington Post called "great gifts to the nation from Abraham."
Prior to being named Secretary of Energy, Abraham served as an effective and highly productive U.S. Senator from Michigan for six years, where he was the author of 22 pieces of legislation signed into law - an unprecedented accomplishment for a freshman senator. He also chaired two subcommittees: Manufacturing and Competitiveness and Immigration. Always on the cutting edge, he became a leading advocate for technological issues and was one of the first politicians to recognize the importance of establishing a relationship with Silicon Valley's technological entrepreneurs and business leaders. He authored three particularly ground-breaking pieces of technology legislation: the Electronic Signature in Global and National Commerce Act, the Government Paperwork and Elimination Act, and the Anti-Cybersquatting Consumer Protection Act. All three were landmarks in the governance of cyberspace and the use of important new technology. A strong supporter of the business community, Abraham consistently endorsed policies that enhanced America's competitiveness and global leadership.   
He received the "Defender of the Melting Pot" award from the National Council of La Raza for his efforts on the immigration issue. In 2004, Lebanese Ambassador Farid Abboud awarded Abraham the National Order of the Cedar.
Before his election to the Senate, Abraham was a law professor at Thomas M. Cooley Law School. He is of Lebanese decent.
Secretary Abraham is a periodic contributor of op-ed articles to the Financial Times, The Wall Street Journal, The Washington Post, The Weekly Standard, and other publications, as well as a frequent guest commentator on FOX News, CNN, and Bloomberg TV.
Abraham shared some of his thoughts with Al Mohandas communication committee member, Jamileh Mogin:
Q1: Did you have any key mentors or people who deeply influenced who you are, what you believe in and what you're committed to in your work and life?  Tell me about them.
Abraham: My parents were instrumental in my development.   They were both first generation Lebanese Americans and made sure I appreciated the importance of family, hard work and integrity.
Q2. Did you have any life-changing experiences that put you on the path that led you to be doing what you're doing today?  Tell me about them.
Abraham: At the age of 21 I had the chance to take on the first of many serious jobs in politics when I was asked to manage a US congressional campaign.  I realized then that public policy and government were my calling.
Q3: What is it you are working on nowadays? what is motivating you to do that? and what are the technical, social, financial and political challenges you are encountering?
Abraham:  Since leaving government I have embarked on a career in business.   I sit  on the boards of five public companies and also work in energy consulting and government relations.   I expect to continue this type of work going forward.
Q4: Do you anticipate any turning points in this project/program? any influence on national and international policies?
Abraham:  I have continued to stay involved in politics but now participate as a volunteer advisor which is a bit less stressful.
Q5: What are the lessons learned you can share with a young professional who might be embarking on a career similar to yours?
Abraham: Always be the best prepared person in the room; show respect toward those who hold views opposite to yours; never give up on your goals and career---it's not over until you decide it is over!
Q6: If you have to start your career all over again, what things you've done in the past that you would avoid (Any regrets)? what things would you repeat?
Abraham:  I have no regrets about the course I followed.  It is always easy to second guess career choices or actions taken and I try to avoid such activities.
Q7: What's next for you in your work? what are you looking forward to?
Abraham:   I hope to stay active in the business and political arenas and to observing the evolving careers and lives of my children.