AAAEA – Columbus, Ohio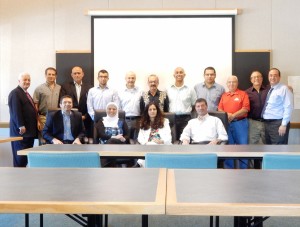 Congratulation to our colleagues in Columbus, Ohio on the formation of the new chapter of the Arab American Association of Engineers and Architects.
A meeting on Saturday, August 22, 2015 was held with 12 engineers and one student in the Columbus area along with the presence of Dr. Rabih Najib, AAAEA National President, and Mr. Bilal Almasri, AAAEA National Outreach Committee Chairman. Mr. Almasri delivered a presentation about AAAEA mission, benefits, activities, and history.
The attendees were excited about the creation of a new chapter of AAAEA in Columbus and a board was formed at the end of the meeting. The new board consists of Ammar Salameh, President; Munir Nazzal, Vice-President; Hasan Alkhayri, Secretary; Maissa Alkhayri, Treasurer; and Naiel Hussein, Membership Committee Chairman.