AAAEA Recognition – Q4 2017
Keeping up with our culture of appreciating the efforts, involvement and hard work at NAAAEA,the association recognized the following leaders in the last quarter of 2017 for their service.
Hani Almoghrabi

Hani have been residing in the U.S. for approx. 40 years where he completed his Bachelors and Master's degrees in Mechanical Engineering. For the past 30 years, his career has been focused in the Power Transmission (Gearing) field, represented his employers on several AGMA (American Gear Manufacturers Association) committees and was the US delegate to the International ISO worm gearing committee.
Currently he works at NORD Gear and have responsibilities for the America's as the Large Industrial Gearing product manager. His job takes him practically all over Europe and the America's but when he is home, he enjoys spending time with his family, barbeque in the backyard and watch Green Bay Packers football .
He is currently the National Arab American Architects and Engineers Association president and have served on the national and local Wisconsin chapter in varying responsibilities over the years.
Maha Alsadi

Education Background:
- BSc in Electrical Engineering Jordan University of Science and technology (JUST).
- MSCE Master of Computer Engineering from FAU
- Masters in Project Management from George Washington University.
- Six Sigma and SAFE Agilist Certified.
- AWS Solution Architect
Volunteer & Community Service:
- AAAEA : joined the first meeting held in November 2006 for AAAEA in south Florida, and attended every national conference since 2007 to 2015. During these years I served as IT officer, Publication chair.National Secretary, National Vice Chair, and the Treasurer for the local chapter.
- SWE (Society Of Women Engineers): 2012--Current
- FAU Women in Engineering Mentoring: 2015--Current ( Voted best impactful mentor).
- Habitat for humanity, Feeding South Florida: 2007--current.
- Islamic Center of South Florida: Arabic and Intro to Islam Teacher 1990-2002.
Mustafa Mahamid

- Contacted AAAEA in 1999  while a student in Peoria.
- Served as a chairman of national outreach in 2006.
- Served as the first National chair in 2007 and 2008.
- Served as the first national treasurer.
- Served as VP in AAAEA-Chicago.
- A member of the BOT of AAAEA-Chicago
Dr. Mahamid is currently a Clinical Associate Professor at the University of Illinois at Chicago and a structural Engineering consultant for multiple structural engineering firms. He worked as a structural engineer at GRAEF and Skidmore, Owings & Merrill (SOM) in Chicago. His design experience covers the various building materials, including concrete, steel, wood, and masonry.
His current research projects include analysis and behavior of steel connections, seismic and non-seismic, reinforced concrete slabs and joints, behavior of structural members subjected to fire, behaviorand analysis of composite member, and analysis and behavior of cross-laminated timber.
Dr. Mahamid serves on several technical national committees; he authored and co-authored numerous journal & conference papers, design guides and book chapters. He is a licensed Structural Engineer (SE) in the State of Illinois and registeredProfessional Engineer (PE) in California, Washington, Wisconsin, and Michigan, a Professional Engineer (P.Eng.) in Newfoundland and Labrador in Canada. He is a Fellow of ASCE (F.ASCE) and ASCE's Structural Engineering Institute (F.SEI).
Bilal Almasri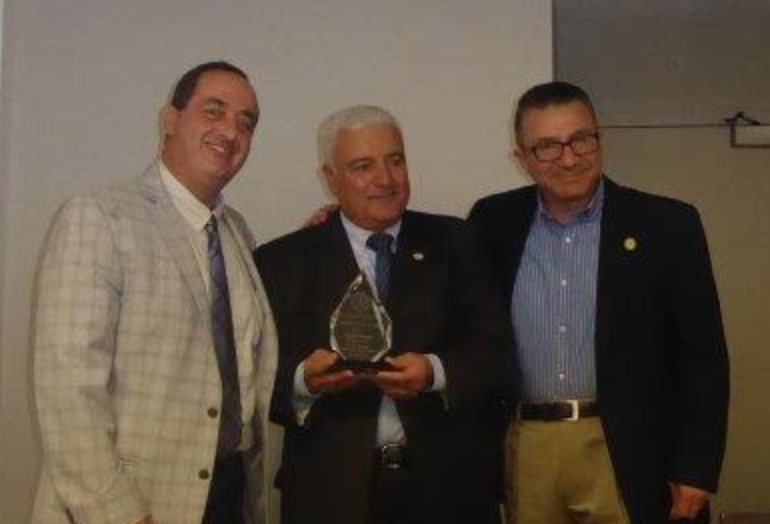 Quoted from Najib Rabih (Chairman of AAAEA):
I have known Bilal since 2009 and I have never seen anyone with so much energy, who works hard to make sure that we have covered every little detail in everything that we have done.

I have been with AAAEA since 2008 and I am already exhausted. Bilal, on the other hand, has been with the association since its inception in 1996 and has more energy today than even when I first met him 8 years ago. I have no idea how he keeps things going. He is an engine and honestly without him this association would have been long gone.

People asked me in the past when I served as the National President, how come Bilal is in every committee. Well, my simple answer was, and still is, he is the only person who makes things happen. Others talk while he walks. Everything I asked from him, was completed on time if not ahead of time. While I was begging others to help with the different programs that we have, I was trying to slow Bilal down.

Bilal has served, and continues to serve, this organization at different capacities. Whenever someone called upon him, he was there extending hands and ready to work. He has led this organization on both the local and national levels and reached out to many agencies to place AAAEA on the map in the USA and abroad. He was part of establishing every chapter that we have today. Working tirelessly and without giving up any hope to establish chapters when the opportunity was there. This comes from his belief that we are all individually successful, but collectively can be better, and it should be better.

So, for his service for more than 20 years, I am, on behalf of the National Executive Board, presenting Bilal Al Masri, the Engine, with the AAAEA Lifetime Service Award.