NAAAEA at the 2017 TRB Conference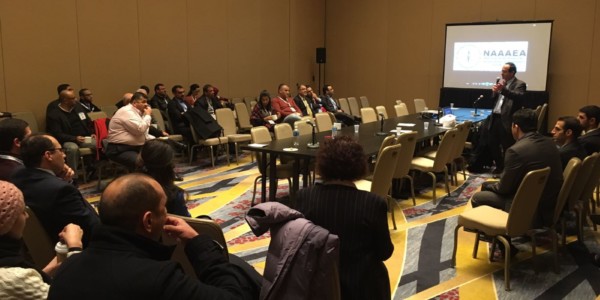 The National Arab American Association of Engineers and Architects hosted a "Meet and Greet" event as part of the annual TRB Conference in Washington, DC on January 9, 2017.
The event was the first of its kind for the association and was well attended by over 50 Arab Engineers attending and participating in the different functions of the TRB conference. Everyone enjoyed the event and learned about the association and the different programs that we have.
Thank you to all who joined us at this event and we are looking forward to seeing you at our regular events hosted and organized by our chapters as well as the annual TRB conference.
Thank you to those who assisted in organizing this event including Imad Al-Qadi, Munir Nazzal, Khaled Hasiba, the National Executive Board, the National Board of Directors, and the Capital Area Chapter.