Interview of the Month – Hiyam Zayed Wakeem
1. Please introduce yourself, education, back ground and family.
My name is Hiyam Zayed Wakeem. My family's hometown is Sielet el daher (A village near the town of Jenin, Palestine). I was born in Kuwait and grew up in Amman-Jordan.
I am married to Jamal Wakeem and have two sons; Khalil (9) and Zayne (7).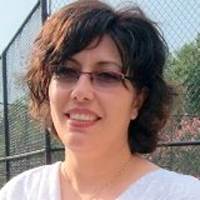 I graduated with a B.S. in Mechanical Engineering Technology (PSU), Master of Engineering Science (PSU), and MBA in Marketing (York College of PA) My work experience is concentrated in Electronics Manufacturing. I worked in Product Engineering and Product Management for Industrial and Fiber Optic connector manufacturers. Currently, I am a Product Line Manager and Product Engineering Manager for Industrial Connectivity Solutions at Belden Inc., the Americas region.
2. How did you hear about AAAEA and how long have you been involved and what positions did you hold?
A friend of mine who is a member of the AAAEA introduced me to the capital chapter in 2009. I joined the chapter that year. 2010 position à Member of Education Committee, member of Activities Committee.
2011 positions à Co-Chair of Education Committee, Chair of Activities
Committee.
2012 position à Vice President of Capital Area Chapter.
3. Please provide us with some information in regard in your role in the education committee & scholarship committee in DC.
In 2010, I served on the Education and Activities committees. My responsibility was to establish a scholarship program for the Capital Area chapter to encourage young Arab American students to pursue engineering programs. I cooperated with the chapter president, at the time, to establish the criteria, requirements, and the marketing plan to promote the program.
I assisted the Activities committee with the social activities planned that year. In 2011, I served as Co-chair of the Education Committee and Chair of the Activities Committee. I helped the Education committee establish PDH credit hours recognized by the states of MD, VA, and Washington DC for seminars sponsored by the Capital chapter. I helped the Activities Committee in leading the planning all social events. In 2012, I served as Vice President on the Association, Capital Area chapter.
4. Did the National Conference meet your expectations? Please
provide us with your feedback.
The National Conference was of high standards. The Wisconsin chapter did an outstanding job in planning and executing the event. I enjoyed being part of the National Conference.
My only reservation is the election process; I would like the election process to start by introducing the nominees' credentials prior to the conference so that the members have sufficient time to know the nominees before voting.
5. What do you think of Almuhandes and do you have any suggestions?
I enjoy reading Almuhandes; it is a great publication. I would like to see more interviews with members who excel in their field, or publish books and articles. Recognize those who receive awards in their respective fields, by introducing their work, Almuhandes would advance our knowledge and encourage others to write articles and introduce themselves to our association members.