The Organization
A brief history about Nation AAAEA and its chapters.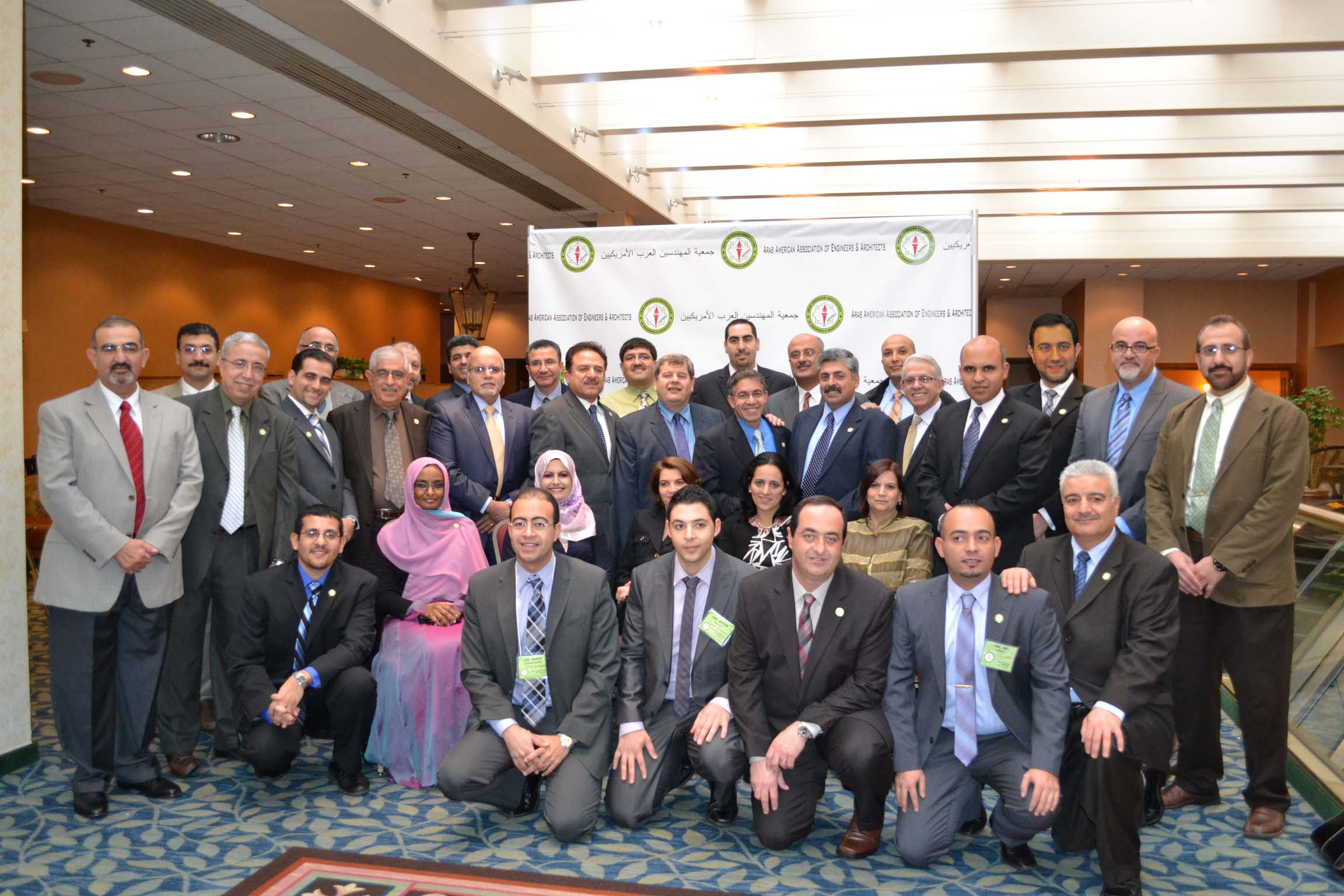 In the fall of 1996, a group of individuals gathered to discuss the need for an organization to serve the interests of Arab American Engineers and Architects in the Chicagoland area. After a year of planning, they convened more than fifty (50) engineers and architects to elect the first board of directors for the newly founded Arab-American Association of Engineers and Architects (AAAEA). Shortly after, the organization was registered with the State of Illinois as a non-profit professional organization.
Today, the organization has over two hundred members. Among the members are Educators, Practicing Engineers, Architects, Computer Scientists, Engineering Company Owners, Partners, and Students.
The National Declaration
On the 11th day of November, 2006, the first organization for Arab engineers, architects and information technology professionals convened for its first national conference. The conference was attended by its ambitious members who created a 5-Year Plan, and a steering committee that would help implement this plan was created in September, 2007.
Five years later, on the 11t" day of November, 2011, the National AAAEA is able to proudly announce its success in seeing through the 5-Year plan to completion. It was through the extraordinary efforts of the Chicago chapter and other notable members that the AAAEA across the nation was able to reach every milestone in this process and fulfill the dream of "Going National Together." For the first time, Arab students and professionals in the engineering, architecture, and information technology fields have an organization that maintains and promotes a cohesive community and a national networking system.
The National AAAEA is comprised of the following chapters:
1. California
2. Capital (DC, MD, VA)
3. Illinois
4. Indiana
5. Michigan
6. Minnesota
7. Texas
8. Tri-State (NY, NJ, CT)
9. Wisconsin
These chapters will continue to perform the duties of the National AAAEA by-laws while maintaining its impeccable reputation.Furthermore, the Grand National Convention launching the National AAAEA was held in-Chicago on November 11, 2011. Delegates from each chapter were invited to attend and celebrate the national establishment of the National AAAEA. It was through the tireless efforts of many dedicated individuals that the National AAAEA was able to accomplish all of its goals; and we invite you all to celebrate your accomplishments with us.
Read More
Mission Statement

AAAEA is a professional Arab American association dedicated to help, strengthen, empower and inspire its members for excellence. AAAEA promotes and advocates the Arab American Engineers, Computer Science and Architects in North America, by providing career and educational enhancement programs, technical exchange, fellowship, and community service… Read more

National Declaration

On the 11th day of November, 2006, the first organization for Arab engineers, architects and information technology professionals convened for the first national conference. The conference was attended by its ambitious members who created a 5 year plan, and a steering committee that would help implement this plan was created in September of 2007… Read more

Code of Ethics for Engineers

Engineering is an important and learned profession. As members of this profession, engineers are expected to exhibit the highest standards of honesty and integrity. Engineering has a direct and vital impact on the quality of life for all people. Accordingly, the services provided by engineers require honesty, impartiality, fairness, and equity, and must be dedicated to the protection of the public health, safety, and welfare. Engineers must perform under a standard of professional behavior that requires adherence to the highest principles of ethical conduct… Read more
Our National By-Laws

WE, engineers, Architects and Computer Scientists of Arab heritage by ancestry or affinity, residing in the United States of America, recognizing the need for constructive technical interaction among various engineering disciplines, and desiring to enhance our professional development do hereby promulgate the following Constitution and By-Laws…